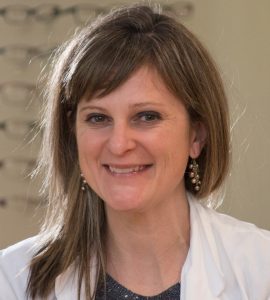 Dr. Jessica Grace
Dr. Jessica Grace is a graduate of West Virginia University, where she earned a Bachelor of Arts degree in Biology. She earned a Doctor of Optometry degree from the Illinois College of Optometry (ICO) in Chicago, IL. She also successfully completed externships at ICO, Kenmore Eye Care in Kenmore, NY, Edgebrook Hospital, Chicago, IL, and the Huntington VA Hospital in Huntington, WV.
Dr. Jessica Grace is an Optometrist in Mooresville, NC. She practices full scope optometry, providing the diagnosis and treatment of ocular disease, comprehensive eye examinations for adults and children, contact lens fittings, low vision rehabilitation, and vision therapy. She also has extensive experience in the management of pre-operative and post-operative cataract and LASIK eye procedures.
She has been in practice for over 12 years with 6 of those years working with ophthalmologists that specialized in Glaucoma and Cataract surgery.
Dr. Grace is an active member of the American Optometric Association as well as the North Carolina Optometric Society. She and her family have also become involved with the Juvenile Diabetes Research Fund (JDRF).
Outside of the practice, she loves to go running and travel. Her supreme joys in life are laughing and playing legos with her 2 sons, Jake and Max. She is especially grateful for her marriage to her husband, Chris, of whom is the Principal at Lakeshore Elementary School in Mooresville.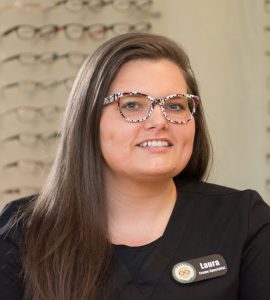 Laura Brewer
Eyewear Fashion Consultant
Mooresville is Laura's hometown, graduating from Mooresville Senior High School. She attended East Carolina University receiving a BS in Hospitality Management with a minor in Business.
Before starting her optical career she spent her time as an event planner. For seven years she planned non-profit and corporate events all over the country.
She enjoys spending time with family and friends, exercising both indoors and out, cooking, shopping and keeping up with the latest trends!
Volunteering and giving back to the community is important to her. Previously serving on the Board of Directors for HealthReach Community Clinic, Mooresville's free health clinic. During the school year she enjoys spending time with Mrs. Derberry's Kindergarten class at Park View Elementary.
She finds that optical is fashion for the eyes and is excited to help Grace Vision Care's patients find the perfect fit!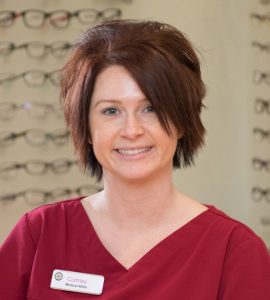 Cortney Dhein
Medical Billing
Cortney was raised in Scottsburg, Indiana. She relocated to North Carolina to continue her affiliation with ARCA racing series. She then obtained her certification in Office Administration at Mitchell Community College (Phi Theta Kappa Academic Honors). She is a member of AAPC which provides ongoing medical coding and billing continuing education and compliance initiative training. She has years of experience working in a high volume healthcare practice as a resource for insurance verification and claim processing. Aside from taking pride in her work, the most important things to her are spending time with her husband, family, and friends.
She enjoys vacations at the beach, attending the race track, and fishing.
Ask for Cortney to handle all of your insurance and billing questions today!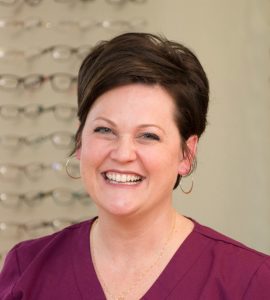 Leslie Hayes
Optical Assistant and Technician
Leslie is a native Texan. She received her B.S. from Brigham Young University in Marriage, Family and Human Development. Her warm and engaging personality will make your eye care visit enjoyable and reassuring as she collects a thorough case history about the private concerns you have with the health of your eyes. She directly collaborates with Dr. Grace to be certain all of your needs are addressed to your satisfaction.
Leslie and her husband are raising 6 children together and love hiking, boating, baking, and attending Church with one another.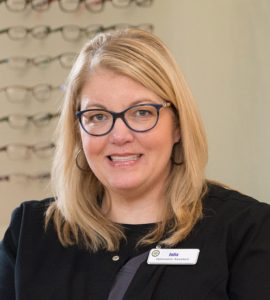 Julia Coone
Certified Paraoptometric
Julia has 25 years of experience in the healthcare industry with 13  of those in the optometry/ophthalmology field. She received an Associate Degree from Central Piedmont Community College and is also a Certified Paraoptometric.
She enjoys working with patients of all ages and helping educate patients regarding the health of their eyes. She has a vast knowledge of contact lenses.
Julia and her husband spend time traveling, cooking and enjoying family and friends.
Jennifer Greene
Jennifer is from Mooresville, NC and a graduate of  Mooresville Senior High. She also attended Michell Community College studying Business. Prior to joining GVC, Jennifer was an assistant teacher for 13 years at First Baptist preschool.
She enjoys attending local church and spending time with her family.